Messy church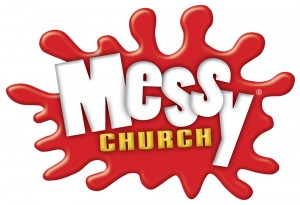 Messy Church is a form of church for children and adults that involves creativity, celebration and hospitality.
It's primarily for people who don't already belong to another form of church.
It meets on a Sunday once a month, in Harnham Church Hall between 3.00 and 5.00pm.
It typically includes a welcome, a long creative time to explore the biblical theme through getting messy; a short celebration time involving story, prayer, song, games and similar; and a sit-down meal together at tables. All elements are for, and should include, people of all ages, adults and children.
It's all-age.
It's fun.
It's a church for people at all stages of their faith journey and of any age – a congregation that is as valuable and worthy of investment as any of your other congregations.
It models and promotes good ways of growing as a family: a nuclear family, an extended family, and a global and local church family.
Forthcoming Messy Church dates
Sunday 11th June – The Ten Best Ways (Ten Commandments)
Sunday 9th July – Parable of The Good Shepherd
Sunday 3rd September – Pet Festival
This event takes place on the field next to the Church Hall.   2-4pm
Pet Service, Dog Show, Stalls, Activities and much more.   Messy Church will have a stand at this event too.
Sunday 10th September – Parable of the Good Samaritan
Sunday 8th October – Parable of the Great Pearl
Sunday 12th November – Parable of the Sower
Sunday 10th December – Advent/Christmas
Family workshop – Saturday 18th March                
If you would like to come and make posies, palm crosses and banners for Holy Week we will have all the resources for you at All Saints between 10.30am and 12 noon.
Mothering Sunday – All Age Communion Sunday 26th March
9.30am  St George's and 11.00am All Saints.
Palm Sunday March – Sunday 9th April
We will meet at St George's at 10.00am and march to All Saints.
Good Friday March – Friday 14th April
The banners will make on the 18th March will be used for the Good Friday march in the City Centre.  We meet on Cathedral Green, the march begins at 11.00am and ends at the Guildhall.
Family workshop – Friday 14th April
A short family workshop on the meaning of Good Friday and the making of an Easter Garden in All Saints Church, 3.00-3.30pm.
Easter All Age Communion – Sunday 16th April
9.30 am St.George's. and 11.00am All Saints.