Latest news
8th January 2021
In this lockdown the government advice is to stay at home. Government and Church of England guidelines also allow for public worship to take place. The Bishop has given authorisation for each parish to consider their local situation and make informed decisions right for their area.
The standing committee has met to carefully consider what is appropriate for Harnham Parish that supports the community, the worshipping community and the NHS.  We have decided that the best way forward for the immediate future is that live worship in our church buildings will be put on hold. Amongst our considerations were the evidence of the rise in the Covid pandemic even in Wiltshire among both young and old; that the new strain of the virus is more easily passed on; the amount of people counted as 'vulnerable' who attend church or help in services.  We would like to keep you all safe as possible. We will review our decision during Lent.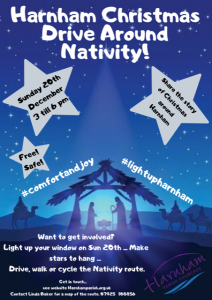 Harnham Open Gardens Revised. QUIZ
As we cannot hold the Open Gardens this year Jean Mercer has designed this quiz. There are 50 questions for you to answer, each relating to the garden, the outdoors or wildlife.
 Please do send your completed quiz to Linda Baker at harnhamparish@btinternet.com  This can be by done by scanning in your completed copy or alternatively you can just put the question numbers and answers in an email.   Donation of £2 to Harnham Parish via Bank Transfer (Lloyds Bank, Sort code 30.97.41,  Harnham PCC, account number 68625568) or if you cannot donate online please put your quiz answers in an envelope with your name on and donation inside through the Parish Office door.
 Money will be split between Church Funds and the Hall Transformation Fundraising.
The winner will be the person with the most correct answers. If there is more than one person with the most correct answers then there will be a draw from a gardening hat!
Judges decision is final.
 Closing date for entries is Friday 12th June 2020.
garden + wildlife questions OTUX
Public Worship Suspended
Following the Prime Minister's announcement on Monday evening, we have now received new advice from the Archbishops. With immediate effect, all public worship in the Church of England is suspended. This means no Sunday services and no mid-week Communion services. There will be no church-organised gatherings at all until the advice changes. An announcement about midweek Morning Prayer will be made shortly.
Our priority is the same as that of the wider church and indeed the government: to keep everyone safe. The Archbishops recognise that in suspending worship and social activities, the church will for a while be very changed. The focus will be on continuing in Prayer and Service.
On prayer, the Church of England will offer resources on its website and the parish in turn is considering what it can offer, through our website and possibly other digital means. Otherwise, our shared ministry is one of prayer – prayer for each other in testing times, prayer for those who are missing so much of what they value, prayer for those who are lonely and isolated and separated from loved ones, prayer for those who are unwell and potentially for those who may be bereaved, prayer for those who are working in difficult situations and for those health care professionals, on whom we all depend.
On service, our first concern is that people should keep in touch. Do keep in contact with neighbours, and others who you know may be in need. And do ring one of us to let us know that you are OK, or on the other hand would like help. We are actively engaged with other local organisations through the Harnham Community Network in discussing how the Network can take a lead in ensuring support is available to those in our community who are in particular need. In doing so, we will certainly be drawing on our LPAs, our retired clergy, our Church Links, and many others who have indicated through Nextdoor.com and other social media that they are willing to help. We will of course have to accept that some of our most stalwart volunteers are themselves being asked to restrict their movements as they are over 70 and/or have underlying health conditions!
Please be assured of our prayers.
Best wishes
Revd Becky, Charles and Jane
Revd Becky Roberts, Vicar: reverendbecky@gmail.com, 01722 333564
Jane Greenaway, Churchwarden: jeagreenaway@hotmail.co.uk, 01722 328583
Charles Woodd, Churchwarden: charleswoodd46@gmail.com, 01722 323447
WORM CHARMING COMPETITION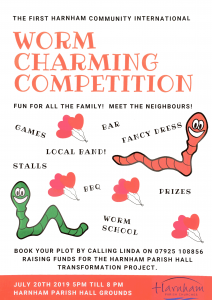 Wormcharming competition
Worms can be very sleepy in July, particularly if it's dry, so ALL your skills will be tested!
Please ensure that you have registered your team at Worm HQ before 5.30 pm – In addition to the main competition, there is also a competition for the Under-11s.
A handbell will be rung about 5 minutes before the start of the competition. Competitors to be kept clear of competition plots until the instruction "Get to your plots"
Once all teams have found their plot (1 metre x 1 yard) everyone is allowed to begin "Worming Up". This is doing whatever you need to do to get the worms out of the ground without digging, forking or pouring harmful liquids onto plots. "Worming Up" lasts for 5 minutes after which the competition really gets underway – with all teams giving it their best to get as many worms charmed out of the ground as possible in 15 minutes allocated.
The rules of Wormcharming
Each team comprises 3 members – a Charmerer, a Pickerer and a Counterer.
No digging or forking allowed. Vibrations only to be used.
No harmful liquids to be poured onto plots. Water and other potable liquids are ok. (The judges may ask you to drink a sample to demonstrate harmlessness)
Any form of music may be used to charm the worms out of the earth.
Teams are given 5 minutes "Worming Up" and 15 minutes Worm Charming
Each competitor may collect worms from their own plot only.
Worms to handled carefully and lovingly and collected in damp peat and placed in a suitable container provided by the organising committee.
Any team or competitor caught cheating will be publicly humiliated and almost certainly disqualified.
The team which collects the most worms is the winner. The catcher of the longest worm also wins a prize.
In the event of a tie, the winner to be decided by a further 5 minutes charming.
The International Judges' decision is final.
All worms must be returned unharmed to the ground after the competition when the birds have gone to roost.
Wormcharming officials
Competitions of all forms rely on officials to ensure fair play – and worm charming is no exception. The Worm Master presides over the Festival. The Official Cheat tempts entrants by offering them worms so that they can cheat. Old Father Worm Charming offers advice and guidance to would be worm charmers. Finally, there's the International Judge who is the rule of law in all things to do with arbitration in worm charming disputes. In order to ensure year-on-year continuity and fairness some of our officials have recruited apprentices who will also be assisting them on the day.
If you would like to take part in the Worm Charming Competition and enter a team of 3 people.  Please contact Linda Baker 07925 108856 or email harnhamparish@btinternet.com
Business team or sponsorship £100
Family or Group team    £15
Children's under 11's team    £5
If you would like to be more involved in the event, we are looking for volunteers to assist those running "Worm HQ".    We guarantee it will be fun!
Thy Kingdom Come is the Archbishop's worldwide call to prayer and takes place between Ascension day and Pentecost. In Harnham we will be using different daily foci for our prayers. We will use images, reflections, and prayers of the saints to enable our own listening and response to God. We hope that these prayers will bring forth the fruits of the Holy Spirit in our lives that people in our community may know that the Kingdom of God is near to them.
Morning and afternoon  prayers will last for ½ hour.
On Saturdays All Saints Church will have prayer stations around the church, for people to read and pray with at their leisure.
Please look under our Learning tab, then click on prayer for our plans and prayers.
Revd Becky
VISION AFTERNOON
On Saturday 23rd February 2019, members of the Parish gathered together to discuss and share ideas for the parish for the next 5 years.   The afternoon began with Revd Becky setting the scene, showing observations nationally and locally on church attendance.    Examples were given of projects that are working well, including Messy Church.    We looked at cultures today and how they live.   Then everyone discussed how they would attract the younger generations today to be involved in our parish, and how we could adjust our service pattern and resources to accommodate new ideas.
Notes of the afternoon and feedback is available by clicking link below:
VISION AFTERNOON 2019 Notes and comments.
LETTER FROM REVD BECKY ABOUT PLANNED VISION DAY
An opportunity for all to have their say on plans for the next 5 years.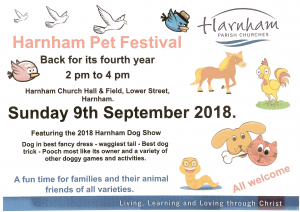 Global Wave of Prayer
Thursday 10th May – Sunday 20th May 2018
Programme of Prayer
The Archbishops of Canterbury and York have commended a Global Wave of Prayer from Ascension Day through to Pentecost. Here in Harnham, we have arranged a series of prayer sessions for all ages and on a variety of themes and we hope to see you at one or more of these sessions.
Thursday 10th May   Ascension Day
10am Communion at St.George's
7.30pm Walk up Harnham Hill.  Starting from All Saints.  (Dogs Welcome)
Friday 11th May – Family
9.15am  Morning Prayer at All Saints
4.30pm Afternoon Prayer at St.George's.
Saturday 12th May – Christian Unity
9.15am Morning Prayer at All Saints
Sunday 13th May – Christian Aid
9.30am Communion Service at St.George's
11.00am Communion Service at All Saints
3.00pm Messy Church in the Church Hall.
Monday 14th May – Forgiveness
9.15am Morning Prayer at All Saints
4.30pm Afternoon Prayer at St.George's
Tuesday 15th May – Justice and Peace
9.15am Morning Prayer at All Saints
4.30pm Afternoon Prayer at St.George's
Wednesday 16th May – Celebrating Community
9.15am Morning Prayer at All Saints
4.30pm Afternoon Prayer at St.George's
Thursday 17th May – Healing
9.15am Morning Prayer at All Saints
4.30pm Afternoon Prayer at St.George's
Friday 18th May – Remembering Loved Ones
9.15am Morning Prayer at All Saints
4.30pm Afternoon Prayer at St.George's
Saturday 19th May – Love and relationships
9.15am  Morning Prayer at All Saints
Sunday 20th May – Pentecost
9.30am Communion Service at St.George's
11.00am Communion Service at All Saints
7.30pm Taize Service at All Saints.

Thy Kingdom Come 2018 Parish Plans
We asked Harnham Junior School if the children could produce a picture for our Parish Christmas Card.   (This card goes to all the houses in Harnham before Christmas telling everyone about the services over the Christmas period).
We had around 50 designs to choose from.  Once the judges got to the three they liked best (and pictured on this page) they were unable to choose an overall winner.   So decided that Megan's design would be used on the Christmas Card, Browyn's design on the Christmas Day Notice Sheet and Zoe's on the Service Sheet for the Carol Service.
Well done and thank you.
Letter from Churchwardens explaining the services in our parish from October to December.
Sunday Services 1st October to 31st December 2017 OTUx
Way Forward Letter Oct – Dec 2017 OTUx
Message from Churchwardens
We are writing to let you know that in the absence of both Revd. Becky and Revd. Heather, the four Churchwardens, Robert Salkeld and Jane Greenaway (All Saints), Helen Evans and Anthony Bird (St George's) will be responsible for the running of the church, with the help of Linda Baker, the parish administrator. We will ensure all services continue and arrange any pastoral care if needed.
Revd. Becky is continuing to make progress in her recovery, though we do not know when she will return.
We congratulate Revd. Heather on the arrival of Isaac Emmanuel Thornton Leppard  on 15th July and we look forward to welcoming her back in January 2018.
Ww thank the many retired clergy who have stepped in to fill our rotas for leading services and we have been enjoying  some new faces who have offered to help us, some are retired and some are assisting us from St.Thomas' Church.
We are all very grateful to everyone who has been helping out and those who have offered support during the last few months. Please continue to help.
Churchwardens' phone numbers have now been added to the list on our Notice sheets. Please feel free to contact one of them if the need arises.   (Copies of notice sheet can be found under the "What's Going On" tab)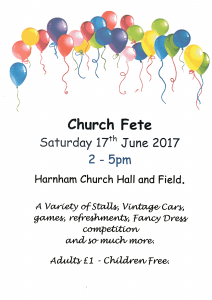 LENT TALKS AND DISCUSSION GROUPS ARE TAKING PLACE IN THE PARISH
Please look at our Lent Talk tab for further details.
AMELIA RUSSELL GREEN
It is with great sadness that we have heard the news that Amelia Russell Green has died. Our thoughts and prayers are with her family.

Saint George's church, Lower Street will be open between 3pm and 5pm each day from today until 23rd February for the whole community to come and write in a memorial book, to light candles or just to be. Please bring your children with you or come by yourself.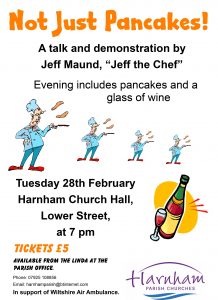 MESSY CHURCH
Next Messy Church is on Sunday 12th February 2017, 3-5pm in the Church Hall.
The theme will be: "The Flood and the Ark".
New families welcome – for further information contact Jean Mercer 01722 324229. 
We are delivering Christmas Cakes made my the congregation and decorated by children from Harnham Junior School.
A big THANK YOU to some of the youngsters from Harnham Junior School for producing some pictures for us for our Christmas communications.   Marley's picture will appear on 3700 cards going to every household in Harnham.  Keara's angels are appearing on our weekly Advent notice sheet and Eva's picture will appear on our Christmas Notices.
ADVENT CAROL SERVICE
Sunday 27th  November 2016
 6.30pm
 All Saints' Church, Harnham Rd.
Everyone Welcome
REMEMBRANCE SUNDAY
Sunday 13th November
Thi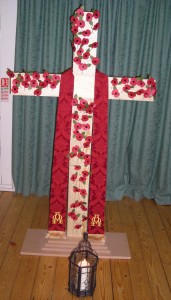 s coming Sunday there will be a Remembrance Services in:
St.George's Church at 9.00am
Harnham Memorial Hall at 10.45am.
Everyone Welcome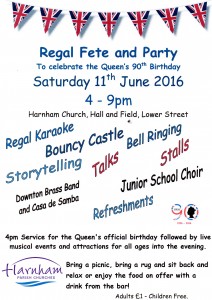 BRING A PICNIC, BRING A RUG AND SIT BACK AND RELAX OR ENJOY THE FOOD ON OFFER WITH A DRINK FROM THE BAR.
Everyone is welcome to come along to help us celebrate the Queen's 90th Birthday.
In addition to the poster items we have:
"The Queen's Knickers"
Talks on "The Royal Arms (Heraldry)" and "Saxon Kings their gruesome deaths and burials"  in St.George's Church.
A chance for the children to ring the bell.
Flower arranging demonstration in the Church.
The Marine Cadets, Police, Electro Swing, Musical talent of all ages and so much                                                                   more.
ST.GEORGE'S PATRONAL FESTIVAL
Sunday 24th April 2016, 10.00am service in St.George's Church followed by lunch in the Church Hall.
This time last year we were beginning the 900 year celebrations.
EASTER WEEKEND
Maundy Thu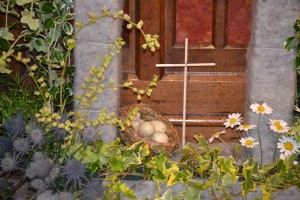 rsday
8.00pm      Communion at St.George's.   During this service there will be foot washing and an opportunity to receive anointing with oil.   Followed by Watch of Prayer until Midnight.
Good Friday
9.15am   Service of the Cross at St.George's.   A prayerful, meditative service.  An opportunity to reflect on the meaning of Jesus' death on the cross in our lives.
Easter Day
8.00am    Holy Communion at All Saints.
9.30am    Family Communion at St.George's.
11.00am   Family Communion at All Saints.   After the service there is an Easter Egg Hunt for the children.
SHROVE TUESDAY
On Tuesday we were able to host Bishop Daniel and Bishop Abdu in our parish.   They had a busy day visiting Harnham Junior School, meeting parishioners, taking part in the Pancake Race in the Salisbury High Street and finally ending the day at our "Pictures and Pancake" evening.
900 YEAR CELEBRATIONS
We are fast approaching our final weekend of our 900 year celebrations.  Tickets are still available for the "Harnham Community Festival" and are available from Harnham Parish Office or alternatively you can reserve the tickets to collect on the door by contacting us through this website, or "St.George's 2015" facebook page or by emailing: harnhamparishoffice@btinternet.com.
SERVICES FOR REMEMBRANCE SUNDAY – 8TH NOVEMBER
9.00am      St.George's Church
10.45am     Harnham Memorial Hall
All Welcome.
Harvest Festival
This coming Sunday  (4th October ) is our Harvest Festival.
9.30am                Family Communion at St.George's
11.00am               All Age Worship at All Saints
12.30pm              Shared Harvest Lunch in the Church Hall.
6.30pm                Harvest Praise at St.George's
(Includes the announcement of the winners of  "Nature, Wildlife and Weather" photo. competition.)
This year we will again be collecting items for the Women's Refuge in Salisbury.  So please bring dry foods, especially packet foods like tea, coffee etc.  Any flowers or perishable goods will be delivered to housebound folk in Harnham.
Pet Festival – Sunday 6th September 2015 – 2-4pm.  Church Hall Field, Lower Street.
Afternoon begins with "Paws for Thought" – a special service for pets and their owners led by Revd Becky and Revd Heather.   The service will last about 20 minutes and afterwards there is going to be a pet show and a fun dog show.  There will be lots of different types of animals there for people to see, including some Crazy Creatures and a real live dragon.  There will be displays in the arena, craft activities, face painting refreshments and so much more.  We look forward to seeing you there.
Annual Christening Tea – Sunday 12th July
This coming Sunday we welcome back families we have christened over the past couple of years.   They will be joined by the families who regularly attend Messy Church and will have an opportunity to see the fun the Messy Church team provide.   Like all good parties there will be party games and party food too!
Welcome Heather – our new curate.
On Sunday 28th July 2015 a group of men and women were ordained as Deacons at Salisbury Cathedral to serve as Curates in churches across Wiltshire and Dorset.  Amongst them was Heather Leppard who will serve amongst us in Harnham in her first years of ordained ministry.
Heather brings many gifts from her wide experience of work, church and life.  She is experienced in working with people with additional needs, initiating intentional Christian communities, and teaching meditative pryaer.  She will be a huge asset to us in Harnham, assisting in many areas of our ministry and mission.
We welcome Heather and her husband Dominic to our parish and look forward to getting to know her better over the years ahead.
900 Minutes of Prayer
As part of our 900 year celebrations for St.George's Church, we are having 900 minutes of prayer in St.George's Church from 6am – 9pm on Saturday 4th July 2015.  Please see our page on forthcoming 2015 events for more details.
Church Fete
Around 400 people attended our Church Fete on Saturday 13th June, 2015, and enjoyed a whole range of activities including History talks and Quilting displays in the church, competitions, arena displays, circus displays, vintage cars and bikes and so so much more.    A big thank you to everyone who assisted with the day in one way or another and for those who came along and made the most of the sunshine.
St.George's 900 years celebrations begin.
On 23rd April, the 900 year celebrations began with children from the local school ringing St.George's bell 900 times. On the following Saturday 300+ Scouts from Salisbury District paraded from Salisbury Cathedral to Harnham Cricket Field for a Medieval Fayre.  Then on Sunday the church celebrated its annual patronal festival with a special service, cake, bubbly and a special lunch.   An excellent start to the programme of events that continue until 22nd November.   For further information check out the 2015 events page on this site.
Harnham Parish joins the 21st Century
After a lot of research, planning and preparation, Harnham Parish has a new website  (this one) and it went live on Wednesday 15th April 2015, in time for the Annual Parochial Church Meeting.
St.George's Church celebrates 900 years!!!
Saint George's church has been at the Heart of our Community for 900 years – which makes us 100 years older than the Magna Carta!
The first known mention of this church is in a document of c.1115, when the Cathedral was still at Old Sarum, in which King Henry 1st granted the church of Coombe and Harnham to Bishop Roger.
To celebrate this anniversary year we have organised a variety of events for the whole community and we are extremely grateful to the local groups and businesses who have also got involved.
Please take a good look at our page on '2015 Events'  to see the full programme.   Events start on St.George's Day – 23rd April and finish on 22nd November 2015. We hope there is something for you to enjoy.