Lent lectures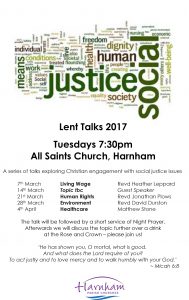 Tuesday 28th March – Canon David Durston talked about the Environment.
Books he recommends reading are:
"A Farewell to Ice" by Peter Wadhams   (Allen Lane 2016)
"Atmosphere of Hope" by Tim Flannery (Penguin 2015)
"Laudato Si" by Pope Francis (Catholic Truth Society 2015)
Please click on link below to see his talk.
Harnham Lent 2017 – Social Justice & Environment
In addition to the above Lent Talks we also have a Thursday Morning Discussion Group:
MEALS THAT JESUS SHARED.
Thursdays 9th, 16th, 23rd and 30th March.
10.30am Coffee
10.45am Discussion and study.
St.George's Church
Jesus shared meals with many different people, with his disciples, with Pharisees, with guests at at wedding , with people who invited this travelling preacher into their homes, perhaps because they wanted to find out what his real message was.   We shall read the accounts in the Gospels of these meals and discuss them together to see what we can learn from them.
Everyone is welcome.   Please bring a bible with you.