Harnham Hub
We are transforming our Parish Hall into HARNHAM HUB! Join the BIG PUSH to finish the job!
Harnham Parish, in collaboration with Harnham Community Network, is transforming our 60-year-old Parish Hall on Lower Street into a centre of activity and outreach for the whole community of Harnham.
Harnham Hub, with its adjacent field and car park, will become somewhere everyone is welcome, that is fully accessible to all, flexible for multiple uses, warm and comfortable to be in, environmentally friendly, and equipped for the 21st Century.
Harnham Hub will be a place where….
– where people living alone or in need of support can find companionship, help and advice, and a chance to chat
– where local residents can gather for important occasions like birthdays, weddings, baptisms and funeral wakes, supported by high standard facilities;
– where local public bodies can meet with residents;
– where community groups for all ages and abilities can find a safe and comfortable home;
This is how the Hub will look.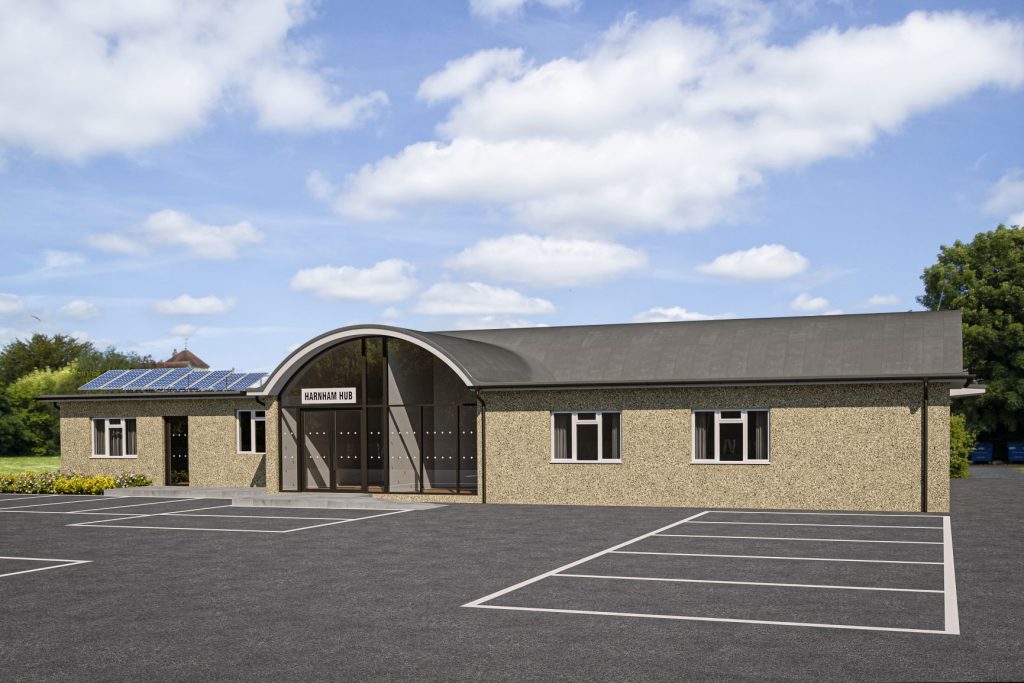 We have already created a new catering grade kitchen, equipped for all kinds of usage. We have installed an underfloor heating system powered by renewable energy from two air source heat pumps. The Meeting Room has had a makeover. The Main Hall has a new, fully insulated barrel ceiling to replace the asbestos boarding and suspended ceiling that was the worse for wear. LED lights now light the car park and the Main Hall, economically yet effectively. All these improvements have been achieved through donations for local residents and businesses, local authorities and historic funds held for the Parish.
Now we are determined to finish the job, by raising the funds necessary to build the extension we need, re-cover the main roof, and install 18 solar panels for electricity generation. The extension will give the building a bright new welcoming entrance, and ensure that it will be fully accessible to all throughout. The new, enlarged parish office will provide a better space both for the parish administration and a base for our partners, the Harnham Community Network, as well as accommodating small meetings. There will be new toilets, and a small interview room. The kitchen and toilets will be directly accessible to all area of the building,
From the Hub, the Parish and the Network will be able to initiate new activities in response to local need. Already, the Network is running a Coffee and Chat session every Saturday and Wednesday mornings, and every Saturday during the summer months, Harnham Harvest Table will be back in the field, enabling local gardeners to share their surplus fruit and veg with their neighbours on a free exchange basis.  
Will you help us to create HARNHAM HUB?
We need to raise £75,000 from local residents and local businesses by the end of 2023. This will build on the generous support we have already received, which has helped us to make the improvements we have completed so far.
To support the Hub Appeal, just go to: www.stewardship.org.uk/pages/appealforharnhamhub. If you have any queries, or would like further information, please email: harnhamparish@btinternet.com or ring Charles Woodd on 07962 213494.