Harnham Hub
Help us to transform our Parish Hall into
HARNHAM HUB!
Harnham Parish, in collaboration with Harnham Community Network, plans to transform our 60-year-old Parish Hall on Lower Street into a centre of activity and outreach for the whole community of Harnham.
Harnham Hub, with its adjacent field and car park, will become a place where everyone is welcome, that is fully accessible to all, flexible for multiple uses, environmentally friendly, and equipped for the 21st Century.
Harnham Hub will be a place where….
– local residents can gather for important occasions like birthdays, weddings, baptisms and funeral wakes, supported by high standard facilities;
– where local public bodies can meet with residents;
– where community groups for all ages and abilities can find a safe and comfortable home;
– where people living alone or in need of support can find companionship, help and advice, and a chance to chat.
This is how the Hub will look.
We are extending the building so that the Main Hall and the Meeting Room will have independent access to kitchen and toilets. We are creating a new commercial-standard kitchen, equipped for all kinds of catering. The Main Hall will be larger and brighter, and the Meeting Room has already had a makeover. There will be a bright new welcoming entrance to the Hub, and the building will be fully accessible to all throughout.
We are taking our commitment to caring for our environment seriously – we plan to install a new heating system powered by renewable energy from an air source heat pump this summer, and we will be installing solar panels on the flat roof. We will also be replacing the main roof, and bringing the insulation up to a current standard.
The new, enlarged parish office will provide a better space both for the parish administration and also a base for our partners, the Harnham Community Network. Together we will ensure that the Hub can initiate new activities in response to local need. Already, we are running a Coffee and Chat session every Saturday morning, and from 17 July, Harnham Harvest Table will be back in the field, enabling local gardeners to share their surplus fruit and veg with their neighbours on a free exchange basis. In the Hub, we hope to be able to offer the services of a Community Fridge, to support those suffering from food poverty.
This is how the layout of the Hub will look, when the extension is in place.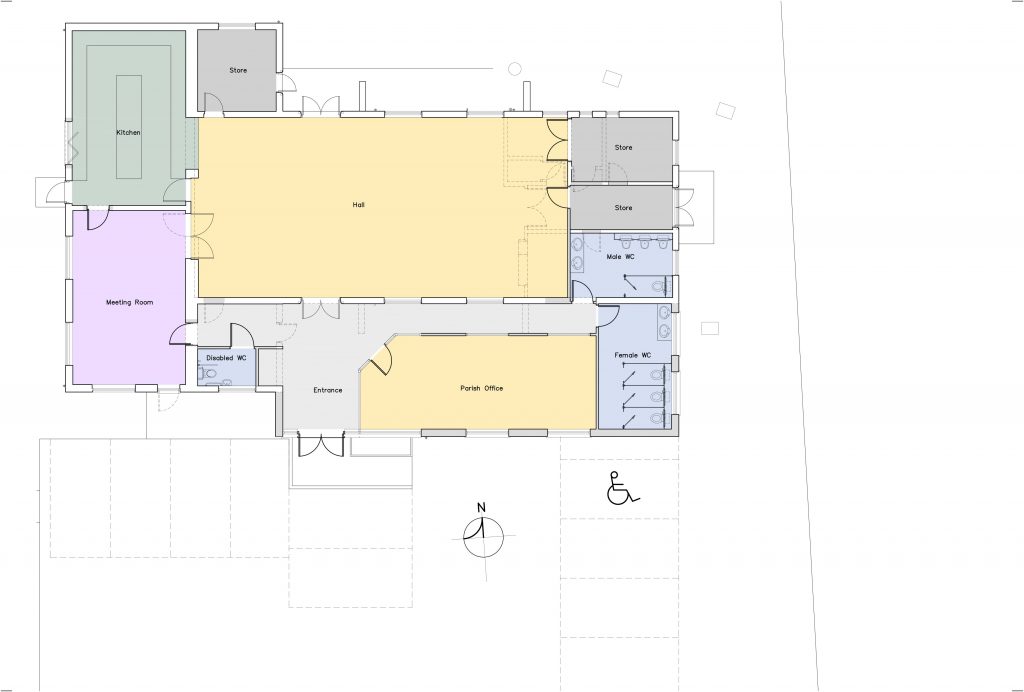 Your sponsorship can help us create HARNHAM HUB
We need to raise £100,000 from local residents and local businesses. We are delighted to be able to report that the Appeal has already received a major boost. Harnham, a global data-specialist recruitment agency founded by a 'local boy' from Harnham, has donated £10,000 to the Appeal. In addition, a local resident who had to give up driving and sold her car, donated the proceeds, £5,000, to support the project. But every contribution, small or large will help.
You can sponsor a Building Block, or Hubbit! for just £10, or 6 Hubbits for £50. Or for £100, you can sponsor a Table, a Window, or a Door. If you would like to discuss a larger amount, to pay for a solar panel or equipment for the Kitchen or Heating system, please get in touch with us. All sponsors of £50 or more will be recorded on our Sponsors' Wall in the Hub.
To sponsor the Hub, go to: www.stewardship.org.uk/pages/harnhamhubappeal
If you would like to discuss your sponsorship, or have any queries, please email: harnhamparish@btinternet.com or ring 07925 108856.